Why Choose Hamilton Dental?
Latest
Technologies
We are equipped with cutting-edge technology to ensure your teeth whitening procedure is as comfortable as possible.
Flexible
Schedule
We are happy to accommodate your busy schedule.
Mon – Fri: 7 am – 9 pm
Sat – Sun: 8 am – 6 pm
Free On-Site
Parking
It is easy for you to reach us thanks to our central location. Parking is available onsite for free, so feel free to visit during our open hours.
For Same-Day Bookings
Zoom! Teeth Whitening for Brighter Teeth
Gentle Yet Effective Treatment
In addition to using light-accelerated Zoom technology, our teeth whitening dentists use ACP (Amorphous Calcium Phosphate) to protect enamel, reduce sensitivity, and quickly whiten teeth.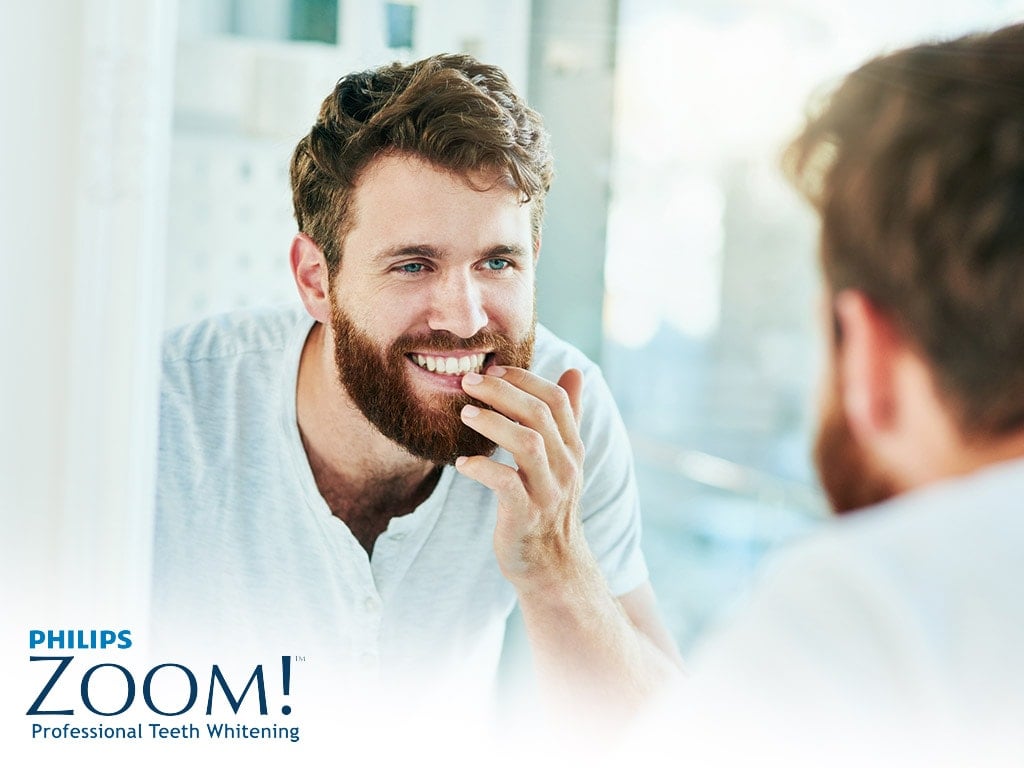 FDA-Approved
Whitening
Unlike store-bought teeth whitening treatments, our in-office products are FDA approved and safe to use for ongoing maintenance. You can use them repeatedly without having to worry about side effects.
Visible Results in
One Sitting
Zoom! is a safe and painless teeth whitening service that uses a special light to accelerate dental teeth whitening. Using Zoom in-office whitening, you can achieve a smile that is up to eight shades whiter.
Zoom! Professional Teeth Whitening
The latest in cosmetic teeth whitening systems, Zoom! Teeth Whitening uses a combination of topical hydrogen peroxide gel and ultraviolet (UVB) light to brighten your smile. Zoom! is an ideal solution for dental whitening of sensitive teeth.
With Zoom! you will start seeing results after your first visit. If you plan to attend a formal event or want to whiten your teeth quickly, we recommend Zoom! Teeth Whitening.
Click here to check out our dental teeth whitening before and after pictures!
Limited-Time Offer
Teeth Cleaning for $99
It is common for our teeth to turn yellow over the years, even when we brush them regularly. Teeth cleaning, therefore, is an essential part of maintaining your oral hygiene. You can expect quick results with our cosmetic teeth cleaning service that makes your teeth up to four shades whiter from your first visit.
What Causes Tooth Discolouration?
Discolouration of the teeth is classified into three types–extrinsic, intrinsic, and age-related.
Extrinsic tooth discolouration only affects the tooth enamel. Food, beverages, and tobacco typically cause extrinsic stains.
Intrinsic stains are those that affect the inner layers of the teeth. These stains are more resistant to over-the-counter whitening products and usually have a grey coloration. Certain medications, trauma to the tooth, tooth decay, too much fluoride, and genetics can cause intrinsic stains.
Age-related discolouration may be caused by both extrinsic and intrinsic factors. Moreover, as we age, our enamel begins to wear away and our teeth will take on a yellowish hue.
Teeth Whitening Dentist in Hamilton
Our cosmetic dentistry clinic near Hamilton Mountain, ON, offers the most innovative teeth whitening by Zoom! 
Our teeth whitening process begins with a free initial consultation, during which our dentist will evaluate your teeth and gums to uncover issues like periodontal disease and dental decay.
Our teeth whitening dentist will also provide you with detailed information about our teeth whitening treatment and what you can expect during and after the procedure.
The Zoom! Whitening Procedure
One of our teeth whitening dentists will review your oral health and lifestyle habits to determine if you are a good candidate for teeth whitening.
Before we whiten your teeth, we will perform a regular dental cleaning.
A dental dam will cover your lips and gums, leaving only your teeth exposed.
The dentist will then use Zoom! Whitening system to whiten your teeth. Zoom UVB light will be used in conjunction with hydrogen peroxide whitening gel to remove stains and discolourations.
The Zoom UVB light helps activate the hydrogen peroxide, which is the active ingredient in the whitening gel. As a result of this light-activation, oxygen enters the enamel; it bleaches the coloured substances and leaves the tooth's structure intact.
The Zoom UVB light is used in three 15-minute sessions. After the 45-minute treatment, we will apply a fluoride paste gel to reduce sensitivity.
To ensure that the result of your Zoom whitening treatment lasts longer, we will provide you with a customized touch-up kit.
Teeth Cleaning and Whitening Clinic
Depending on your teeth's condition, our dentist will provide you with the option to have your teeth cleaned or whitened. Teeth cleaning will only remove plaque and tartar build-up. For teeth that are discoloured, teeth whitening is more effective.
Whatever your issue, we have the skills and technology to help you get the bright smile you want!
Book a FREE,
No-Obligation Consultation
We pride ourselves on offering affordable dentistry services. Your first consultation with us is free. One of our top cosmetic dentists will analyze your dental structure and recommend an ideal course of action to improve your smile. You are under no obligation whatsoever to follow this advice.
FAQs
How long does Zoom teeth whitening last?

Zoom teeth whitening results can last for up to four years. However, the longevity and impact of the results depend entirely on you. Staining your teeth with certain foods or smoking can ruin the effects of Zoom teeth whitening. Make sure you brush and floss twice a day, and visit your dentist twice a year. You may also want to consider using the take-home kit from Zoom. They are specially formulated products that keep your teeth looking their best.
What is the recovery time for the teeth whitening process?

You may experience tooth sensitivity after the treatment, which could last anywhere between 12 and 24 hours. We will also recommend some products to help you maintain the whitening at home for a short period. You should avoid certain foods for up to 72 hours after the Zoom whitening procedure, as they can interfere with the whitening process. You may experience some tingling from the cold gel during the gel application, but this discomfort is minimal.
Is there any difference between over-the-counter teeth whiteners and Zoom?

Yes! Strips, toothpaste, and brush-on gels that are available over the counter take weeks or months to whiten your smile. Zoom can whiten your teeth noticeably in as little as 45 minutes.
Can tooth whitening treatment also help maintain crowns and cavities?

Zoom whitens your teeth by bleaching the enamel. It may therefore not work for whitening other materials, such as crowns or cavities. Make sure to get your whitening treatment done first if you need crowns or fillings. This will allow your dentist to match your crown or filling to your new tooth colour. Consult your dentist if you are uncertain whether the whitening will look good with your dental work.
How do I prepare for Zoom?

Professional cleaning of your teeth should be done before your treatment, as this will improve your results. It will also get rid of any surface stains or plaque that have built up on your teeth.

Zoom teeth whitening is quick and takes little over an hour. It takes only a few minutes to prepare and an hour to perform the procedure. Your Zoom appointment will most likely require you to fill out paperwork. In addition, you will undergo a standard dental assessment, when we will make a note of any crowns or fillings. We will also check to see if your teeth and gums are healthy enough to withstand the whitening treatment.